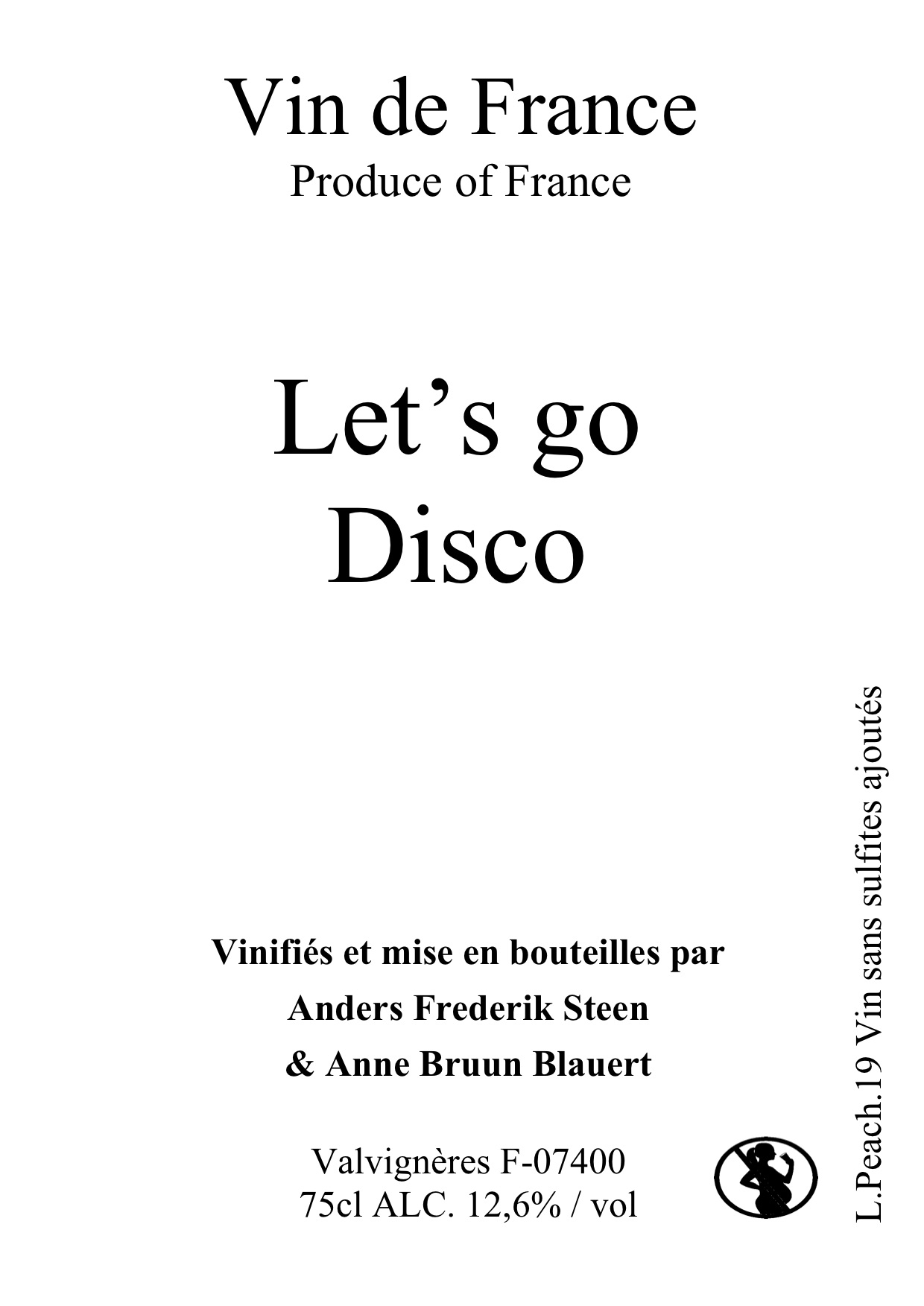 Let's go Disco
Ardèche 2019
All red grapes, many different kinds. As always for our rosés, it's only pressurage direct. Fermentation in fibre cuves in our cellar for nearly 10 months. No soutirage, all fermentation has been on the yeast. Bottled in June 2020. There is still a little bit of sugar left (12 grams) and maybe give it will make some small bobbles. Very floral and fruity rosé, in the style of "Freedom of Peach" witch we made in 2014. As we haven't made soutirage the flavours of the yeast is still to be found, it gives as taste of an unfiltered Junmai Sake. Really interesting.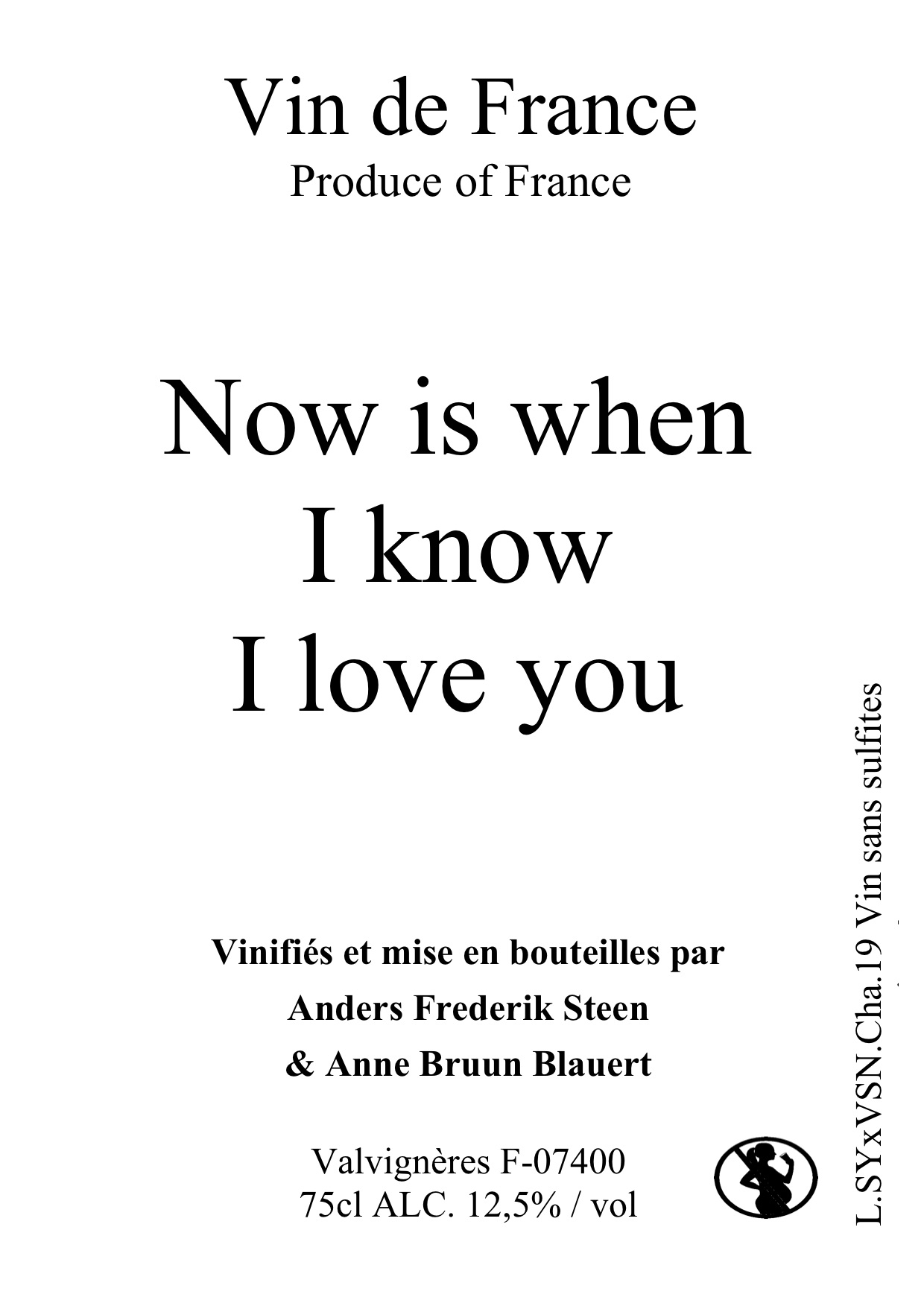 Now is When I know I love you
Ardèche 2019
Chardonnay. Only pressurage direct. A long and slow press of 4 days in the old wooden pressoir of Jocelyne & Gérald Oustric. This wine is made from the last part of the juice of the press, but with no maceration. When that's said, the juice has been exposed to a lot of oxidation during the press and therefore the wine has a colour between deep orange and brown. The fermentation took place in a 500lt barrel in our cellar for almost 10 months. No soutirage. Bottled in July 2020 You can say it's an orange wine, but in fact it's not, as it hasn't been macerated. Any way, you feel the tannins from both the grapes and the barrel in witch the wine has been fermenting. We like the dry bitterness that balances very well with the acidity.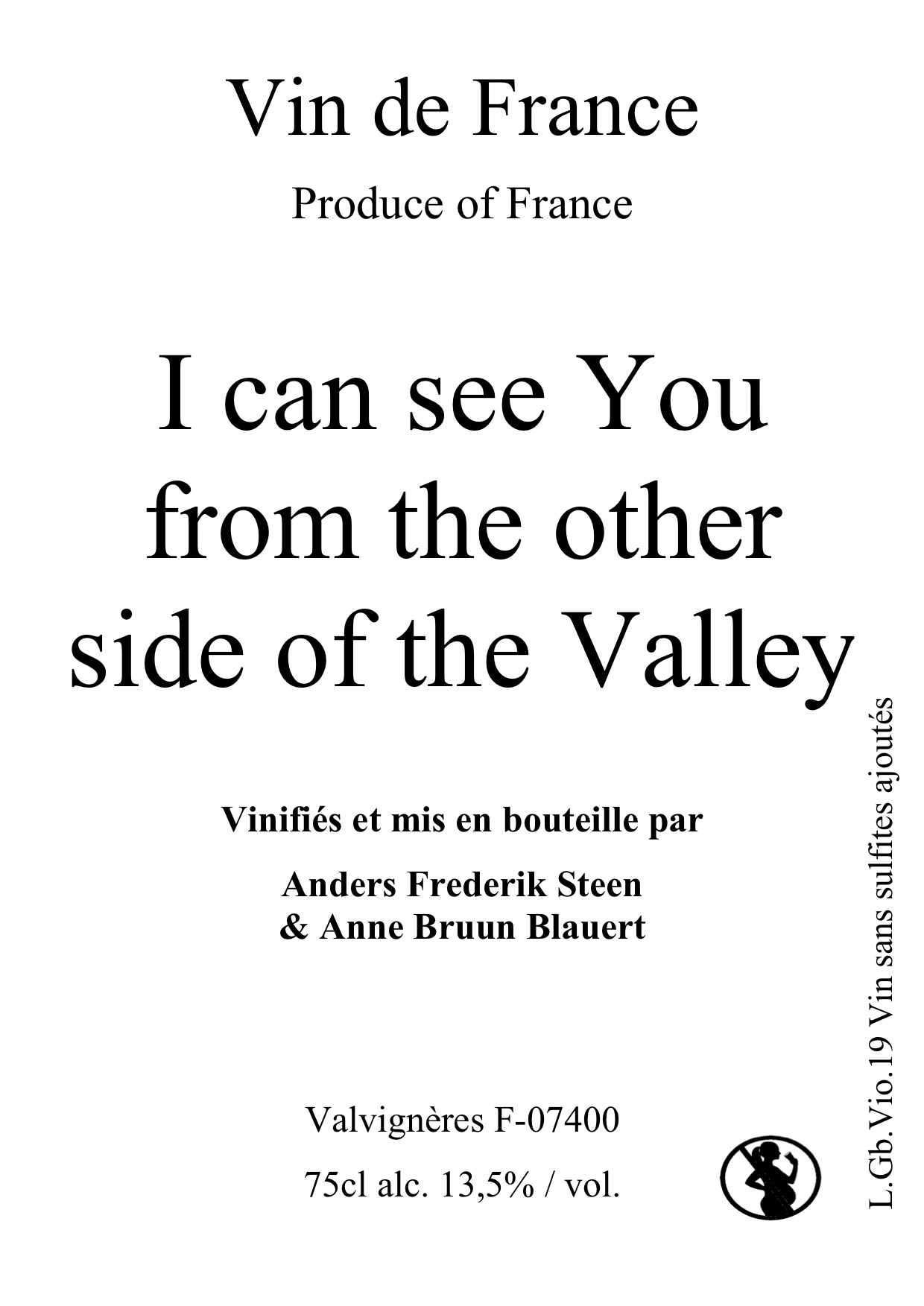 I can see You from the other side of the Valley
Ardèche 2019
Grenache Blanc 60% and Viognier 40%. 13,5% alc. Both varieties pressed for 3-4 days vertically on the wooden pressoir of Mazel. The juice was directly transferred into our oak foudre where the following fermentation took place. We didn't make any soutirage – we left the wine on the yeast. "I can see on the other side of the Valley" is bottled the 11th of July 2020 with 8-10 grams of residual sugar, wish still is present in the wine – so a little light sweetness. A white wine with a light sweet expression of exotic fruits and flowers, jasmines, white roses, litchi, almost pineapple-like flavours. All these aromas are followed up by both saltiness and acidity extracted from the skins when the grapes were pressed.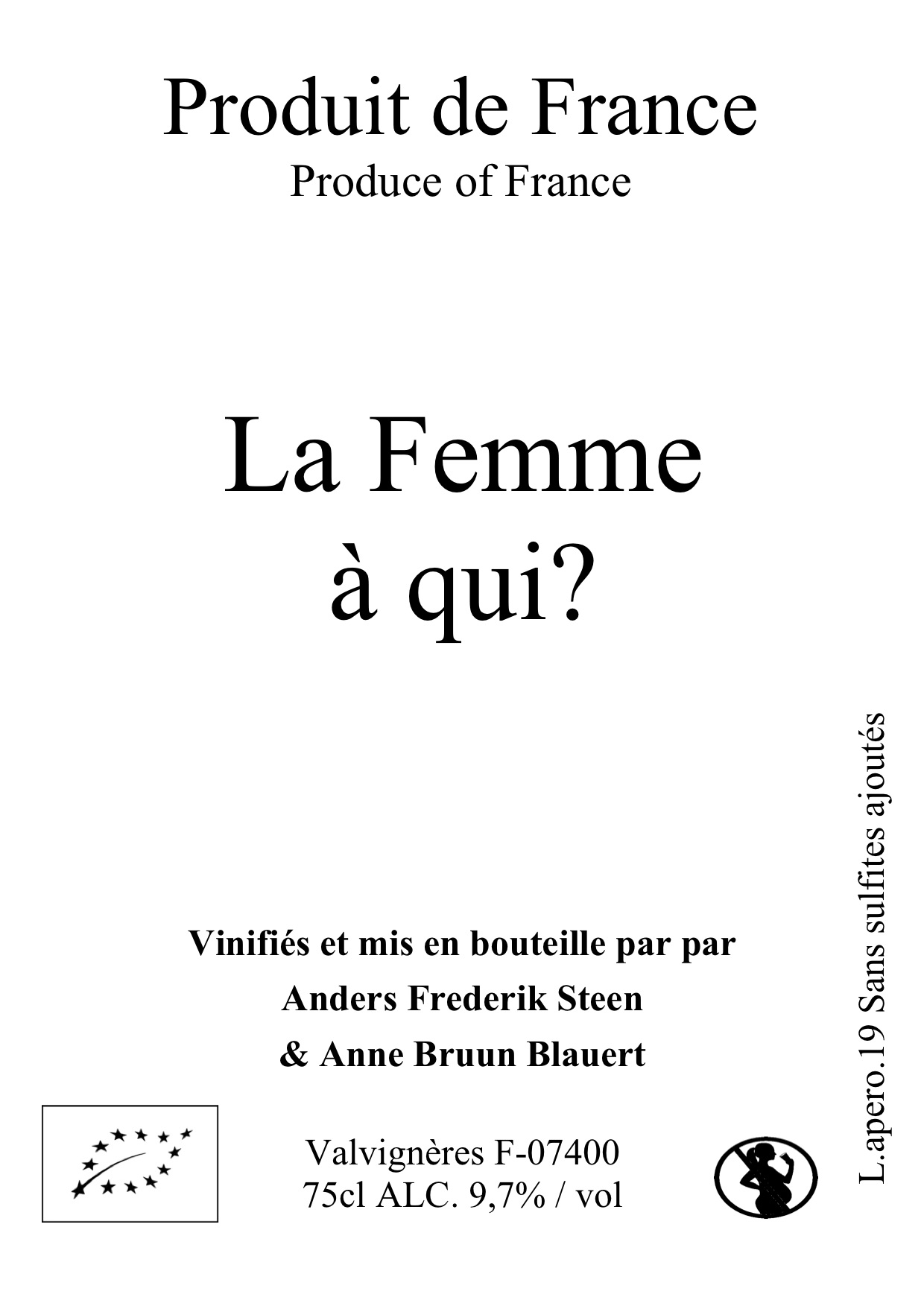 La Femme à qui?

Ardèche 2019
Our PétNat is 50% juice of apples (bio) from a farm near Valvignères and 50% juice of red grapes from Domaine du Mazel (bio) mainly merlot and cab.sau. The juice of the grapes and the apples have been co-fermenting since the pressing of the apples. The color is as you'll see, like a rosé, light/peachy. Taste-wise, the nose gives a sensation of cidre, but on the palate you'll only find the flavors of wine. This blend of flavours is very very interesting. The bobbles are small and delicate. There's no sugar left, so a dry PétNat.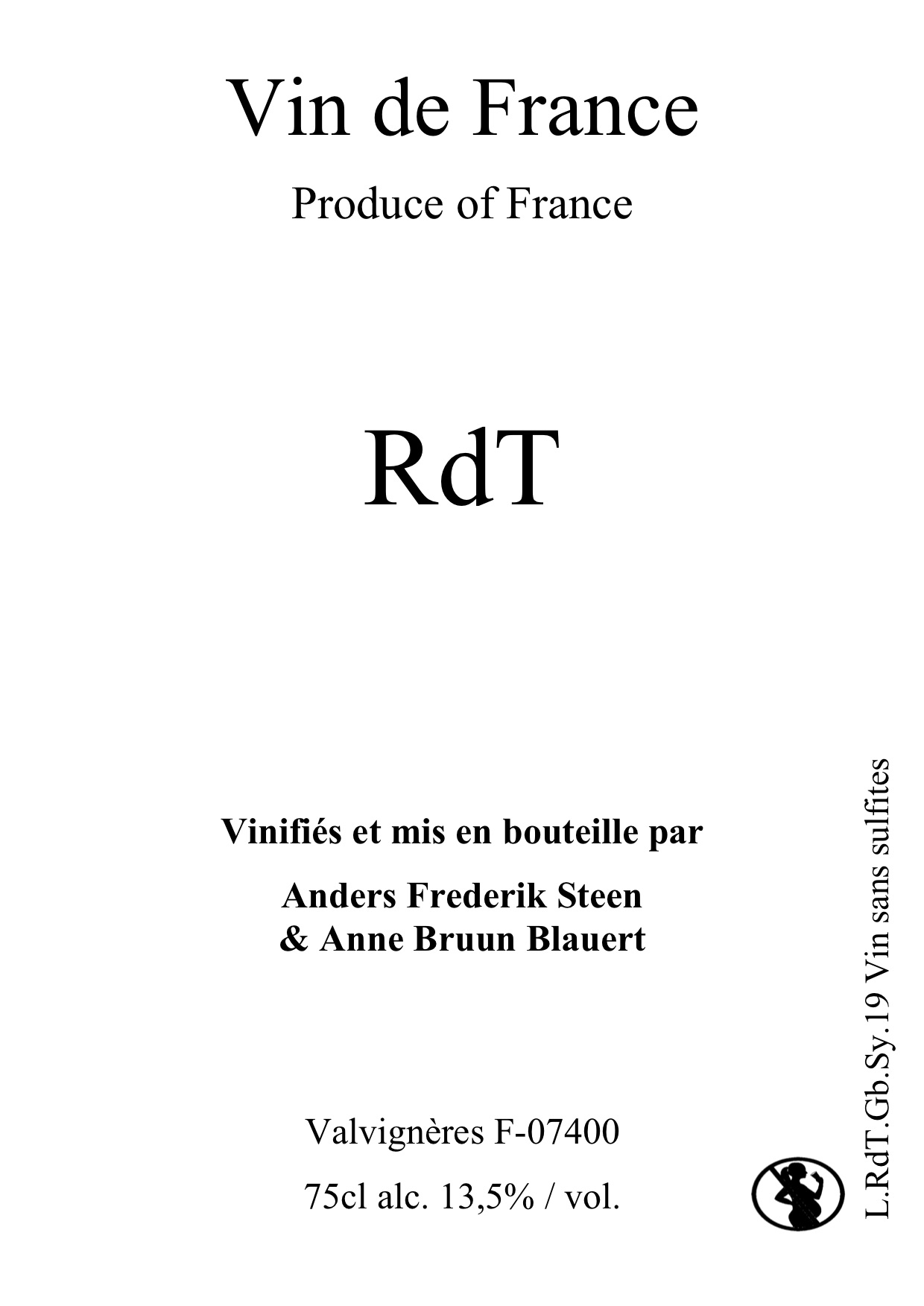 RdT

Ardèche 2019
Raisins de Table (Muscat blanc, Muscat Noir, Chasselas, Italia, Ribol Noir and Cardinal), Syrah & Grenache Blanc. 13,5% alc. The destemmed Raisins de Table and Grenache Blanc have been macerated in the pressurage direct juice of Syrah, for 6 weeks. After maceration the grapes were pressed for 3 days in our little vertical pressoir. The following fermentation took place in barriques for almost 11 months without soutirage. All fermentation has been on the yeast (sur lie). Bottled the 22nd of August 2020. Light red wine with a very solid expression. Many things are going on, on an aromatic level. Both Muscat and Grenache Blanc are very easily recognized.