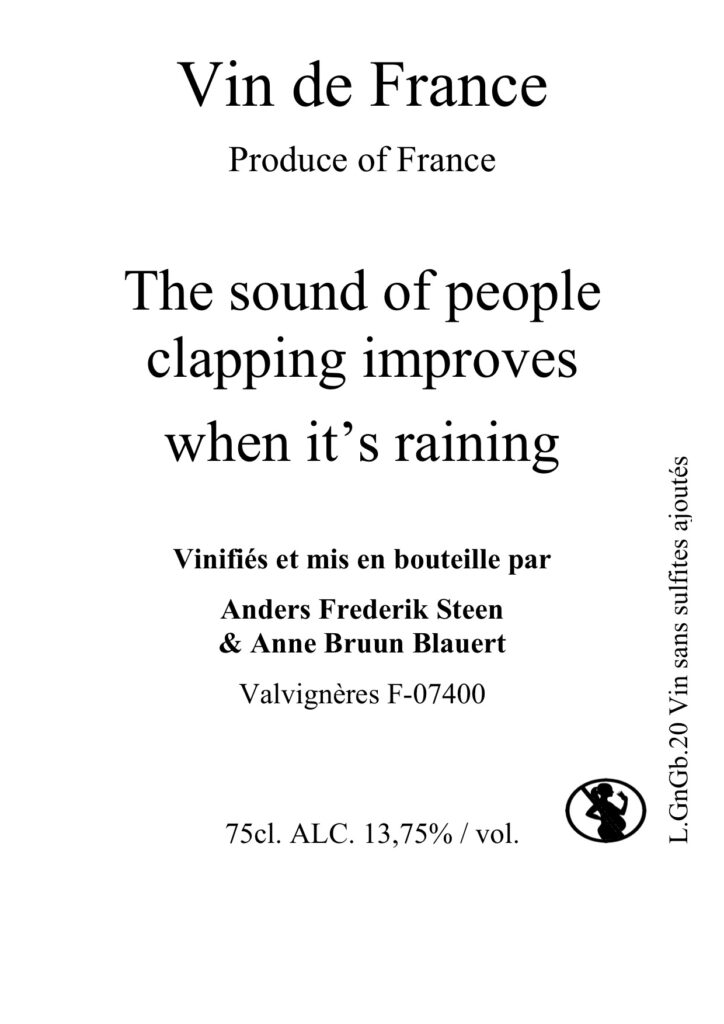 The sound of people improves when it's 

raining
Rouge 2020 from Ardeche. 
Grenache noir/Grenache blanc 2020 Alc. 13,75%. This wine was thought as an experiment – more than any other wine we recently have made. We made a 5 day long press direct of Grenache Noir. Every day we separated the juice and kept a part. We decided to make a blend of the first and the last day of the press (the rest we saved for another wine). We added some Grenache Blanc as well. This wine is therefore technically a rosé, but we call it a red – even though no maceration has taken place.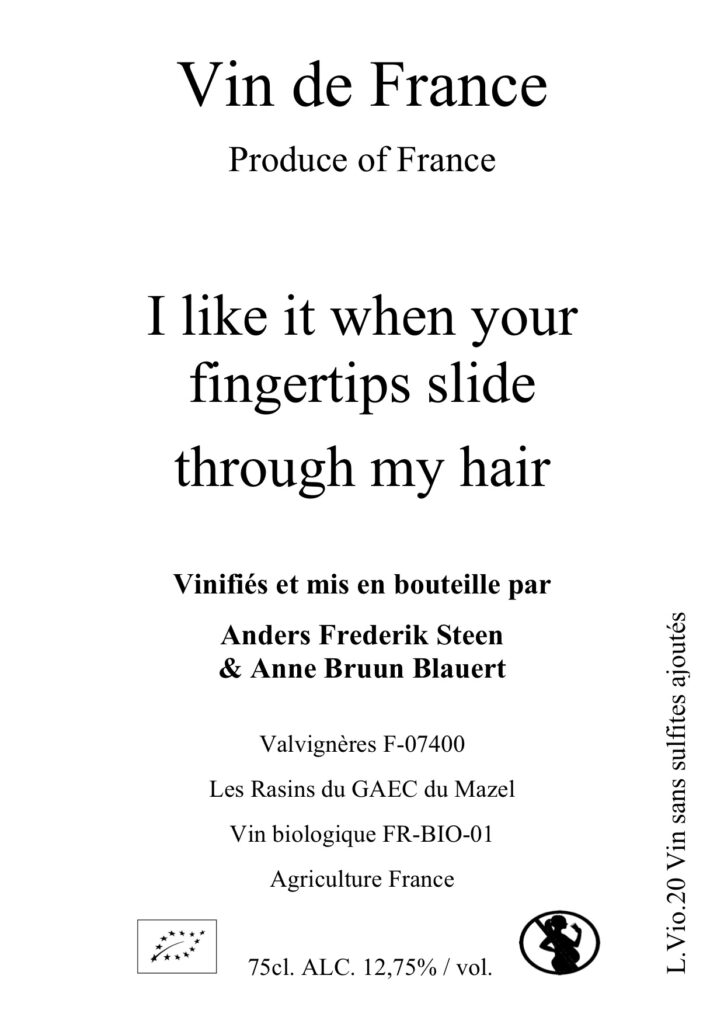 I like it when your fingertips slide through my hair
Blanc 2020 from Ardéche. 
Viognier 2020 Alc. 12,75%.
A 4 day long and slow direct press of Viognier from the old vines of Domaine du Mazel. The combination of the way the wine was pressed and the time it spends in barrels, has given the wine a very solid structure of acidity, bitterness as well as an intriguing salty finish. Nothing like the classic expression of Viognier.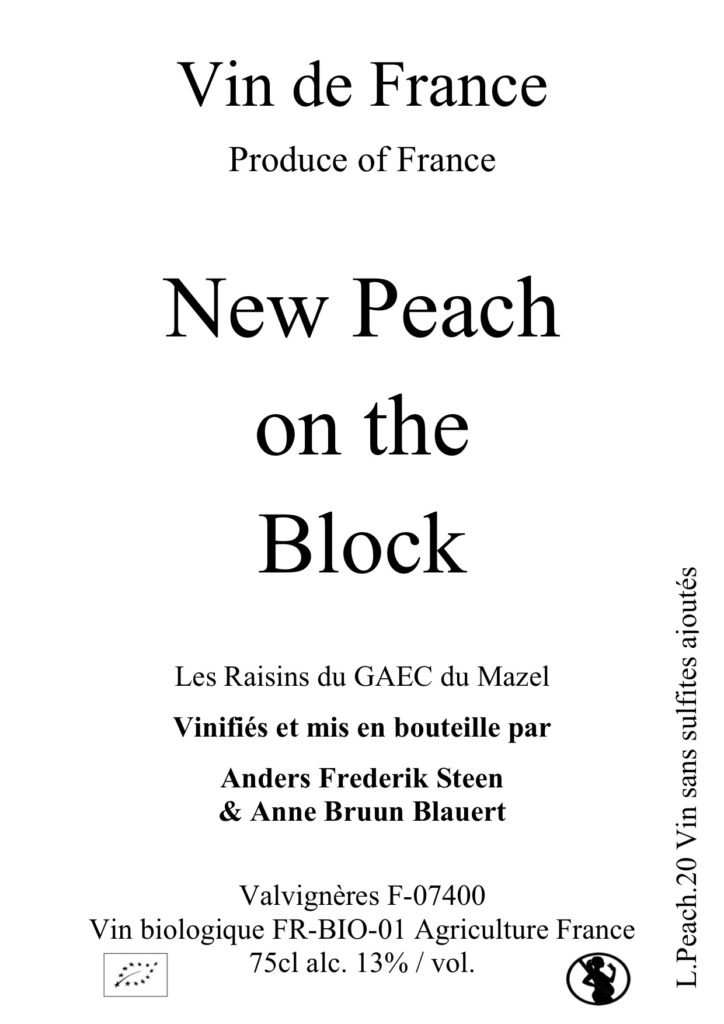 New Peach on the Block
Rosé 20éà from Ardéche. 
Assemblage of Syrah 40% and Merlot 30%, but also Cabernet Sauvignon, Grenache Noir and Cinsault. 13% alc. All pressurage direct and following fermentation in fiber tank. A very fast and short fermentation. We finished harvest the 7th of September and we bottled the rosé the 30th of October 2020, less than 2 months after. We have never experienced a fermentation that fast, not ever. No sugar left, no soutirage – we didn't have time. Peach is back – but not in the usual Peachy-style – this 2020 Peach is in flavors a very expressive rosé with perfumes similar to roses, other warm summer flowers and with a very charming fruity side.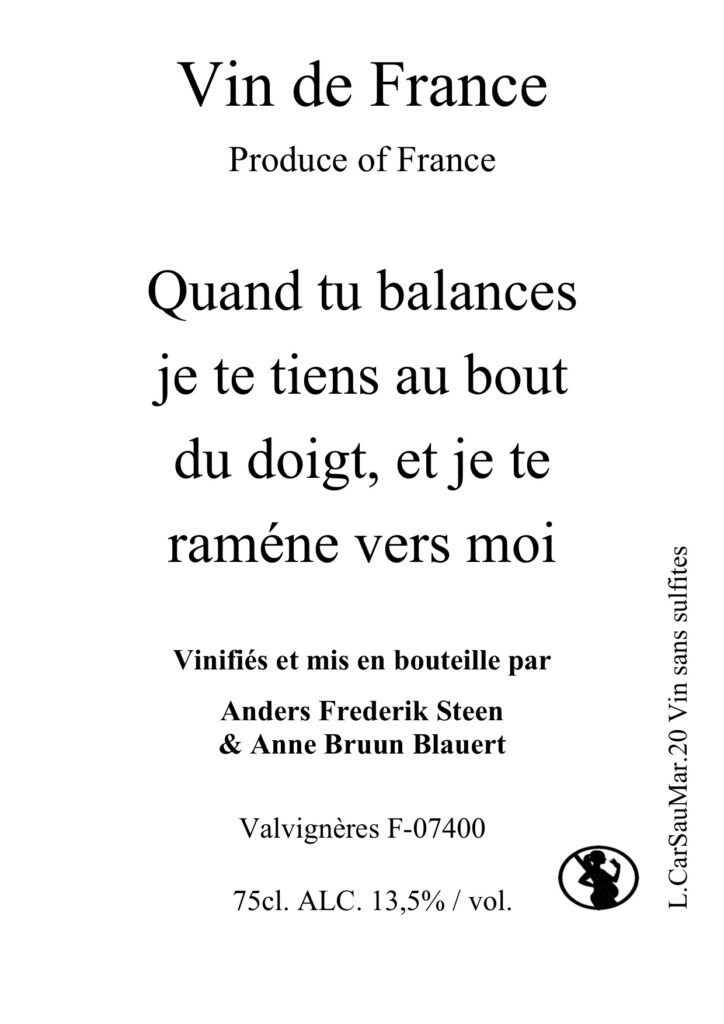 Quand tu balances je tiens au bout du doigt, et je te ramène vers moi  
Rouge 2020 from Ardéche. 
Marsanne, Sauvignon Blanc and Carignan 2020 Alc. 13,5% Originally this wine was meant to be white – A blend of Marsanne and Sauvignon Blanc. But the two juices didn't work well together, so in the end of the harvest, we decided to add some direct pressed Carrigan. It made the wine better, but it didn't take us exactly all the way to where we wanted to be with this wine. We ended up adding a little bit of destemmed grapes of Carignan, to macerated for about 6 weeks. The light red juice went into barrels and the following year the wine fermented in demi-muids. Both juices was pressed direct during 3-4 days.