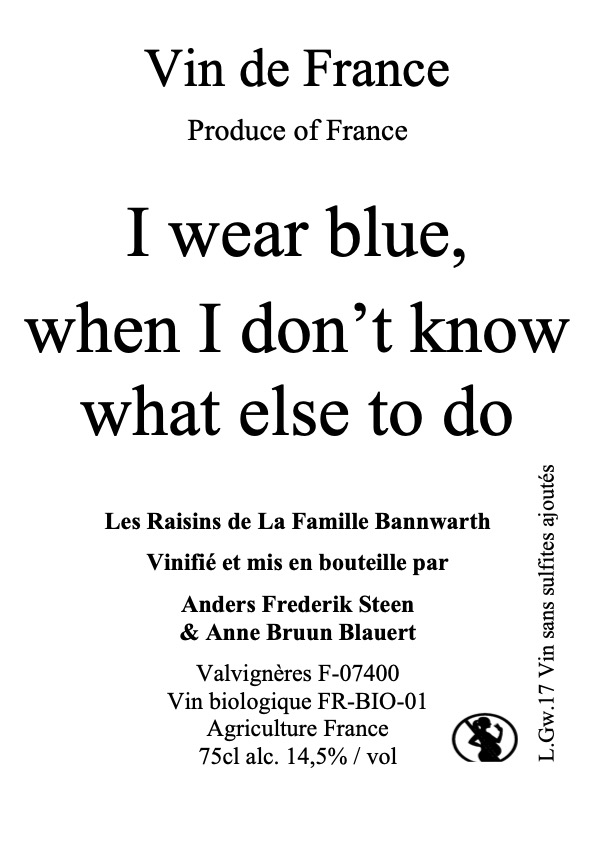 I wear blue, when I don't know what else to do
Blanc 2017 from Alsace. 
This wine has been started in the same way as we have been doing with almost all the whites in Alsace since 2015. Two nights of oxidation of the juice before it was moved to a fiber cuve outside to ferment for about 4 months. Soutirage in the early spring to be followed by almost 5 years of fermentation and aging in old barriques.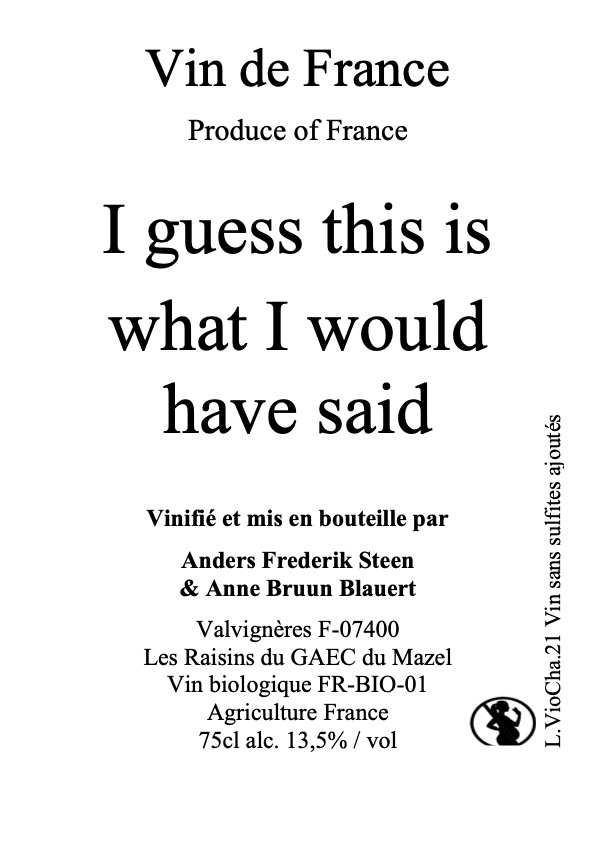 I guess this is what I would have said
Blanc 2021 from Ardéche. 
The very end of a 10-day long press, stating with Sauvignon, then Chardonnay and finally the Viognier, that represents 80% of this wine. The grapes were harvested faster than we could press them, so we decided simply to add more and new grapes to the pressoir every third/fourth day. The Sauvignon and the first part of the Chardonnay went into another cuvée. The last part of the Chardonnay and all Viognier is what this wine is built of. We aged it in old barrels, that normally have been used for red wine. This and the way we pressed gives the wine at bitter tannic structure, not in a macerated or "orange wine" style. It's very light and delicate and are expressed more as salty notes than notes of maceration and tannins.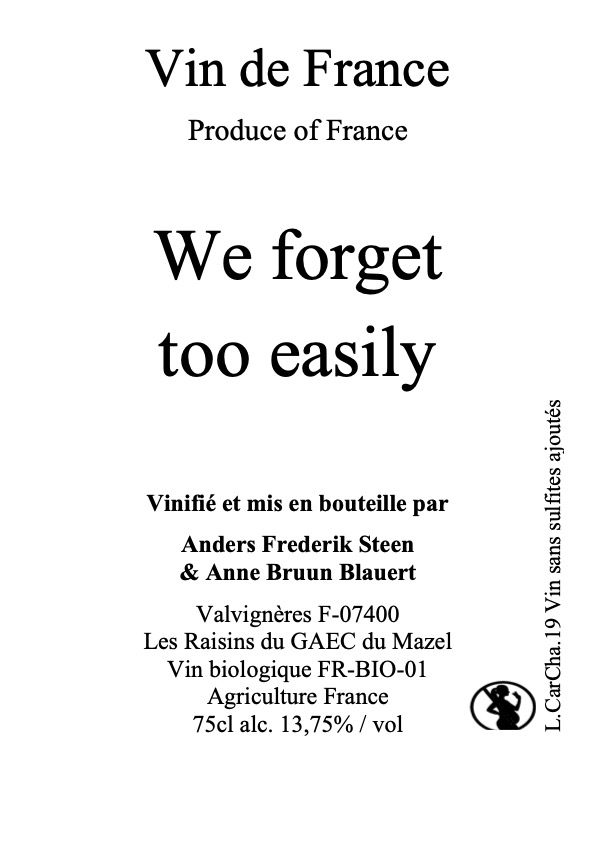 We forget to easily
Rouge 2019 from Ardéche. 
This blend of Chardonnay and Sauvignon Blanc was meant to be a white wine, but in search of balance and freshness, we added some juice from Carignan and later also destemmed grapes of Carignan. This slowly turned our white wine into a red. 2019 was one of the greatest, but also warmest, vintages since a long time here in Valvignères. We started the harvest very early compared to other years and even though the grapes fast reached a high level of sugar and therefor also strong in alcohol, we didn't find the grapes ripped in the way we liked them to be. By adding Carignan and letting the grapes macerate for 6 weeks in the white juice, helped us find the balance we were looking for. It left us with a red wine with very dominant tannins. We kept the wine in barrels for about 3 years. The time in demi-muid has helped to soften up the tannins as well as the rich structure of the wine. Without forgetting about the warm vintage of 2019, we finally found the light and approachable balance that we like so much.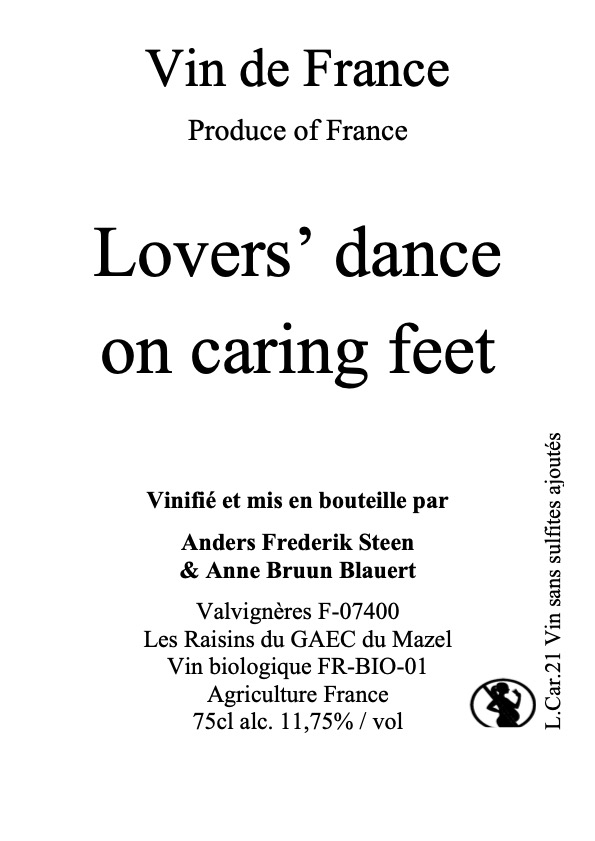 Lovers' dance on caring feet
Rosé 2021 from Ardéche. 
This is absolutely the last grapes from the harvest of 2021. Carignan from Jocelyne and Gerald Oustric. Grapes, they generously offered us to compensate for our lost harvest in our vines at Valgrand. We wanted to make a rosé, but a rosé a little bit of edge. We wanted to macerate and make a kind of rosé de saignée, but because of the hailstorm the grapes were not the most beautiful we've seen. Therefor we crunched the grapes, left them to macerate for 6-8 hours in the pressoir, just to do a fast pressing of the juice overnight. It gave us a very interesting rosé juice, with a (for us) new unseen aromatic profile and an unusual long salty finish. Since harvest the wine have been ageing in demi-muid.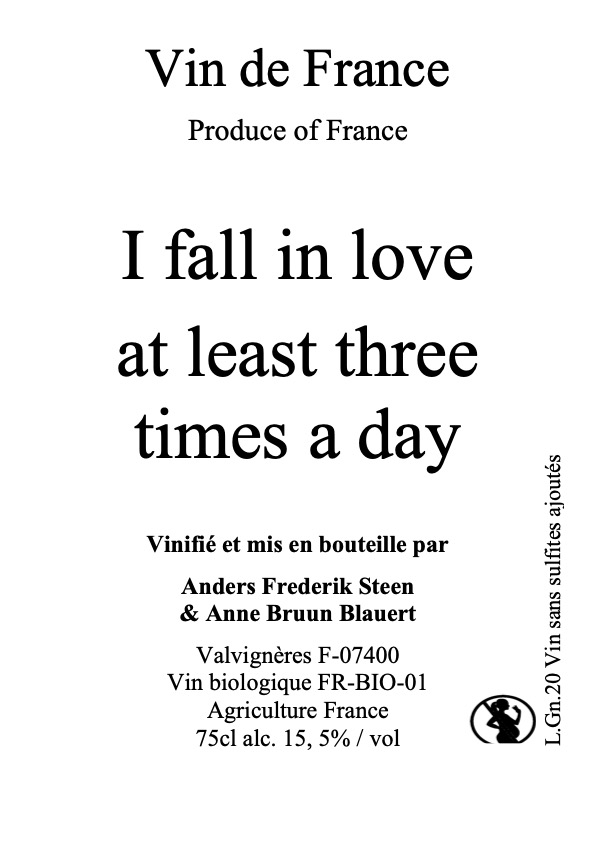 I fall in love at least three times a day
Rosé 2020 from Ardéche. 
A wine that was intended as an experiment. In 2020 we wanted to press some red grapes like we do with our white grapes. Therefore, we made a press direct of Grenache Noir. We did this for 5 days. Every day we separated the juice. The juice of day one and five became another wine. Day two, three and four we blended and left it to ferment, age and find its balance in barriques. Because of a late harvest the alcohol became strong, and we decided for that reason to keep the wine in barriques for close to two years. We're very happy for that decision. It gave us this slightly oxidative rosé. Something we haven't seen before here in Valvignères.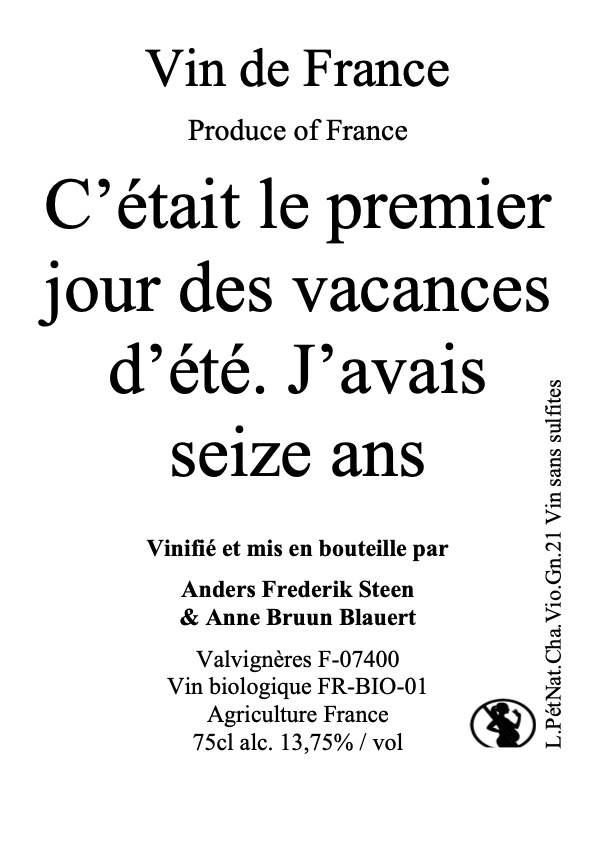 C'etait le premier jour des vacances d'été. J'avais seize ans
Pétillant Naturel Blanc 2021 from Ardéche.
A blend of Chardonnay, Viognier and the very first juice from a direct press of Grenache Noir, all co-fermented- first in a fiber cuve, and very fast after the wine was bottled, left to finish the fermentation for a year. We wanted to keep this white sparkling wine on the yeast in bottle for a year, to be able to bring the bitter notes more in place and at the same time have smaller and more delicate bobbles. It means that this pétillant natural has a character more like a BdB sparkling wine, and a less pronounced fruit and sweetness compared to what pét.nat normally represents. We made dégorgement in the end of September 2022.